Milky-way (2023)
40 x 35 cm
Screen print, 4 different colors
Edition: 13 + 1 AP each
Groundbreaking Solution / Show Your Age / At the Cheapest Prices / We Transplant Happiness / You Have the Ground, We Have the Compound / Transplanting Revolution / Without a Scar and Without Hurt / Reboot Your Life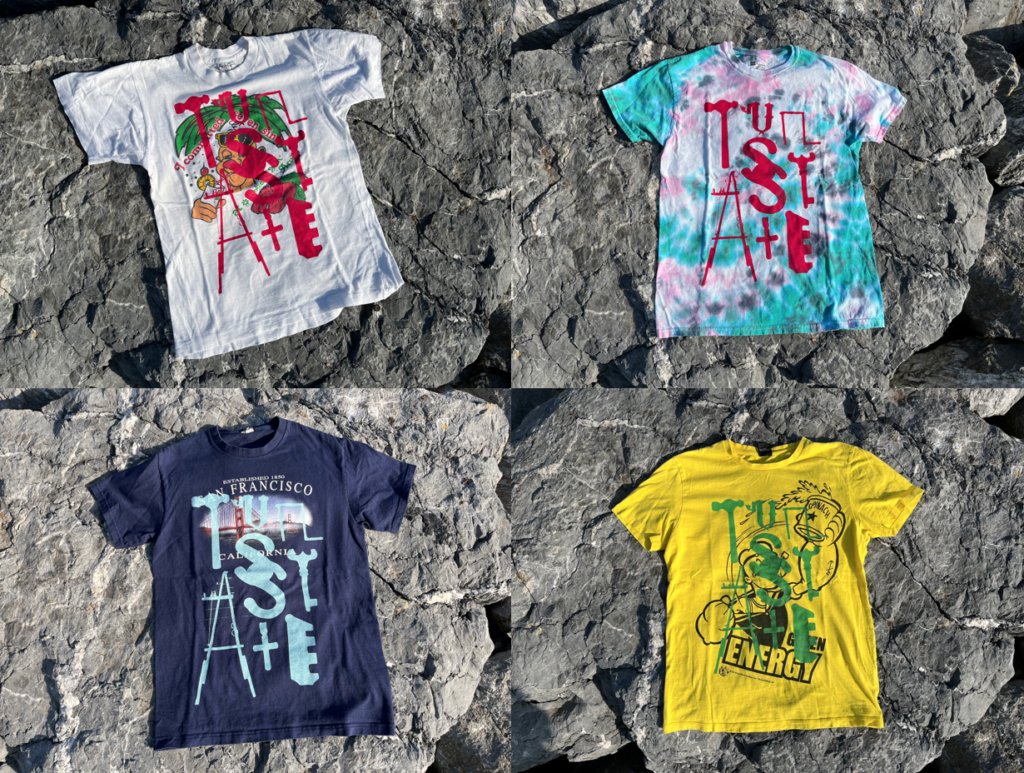 TunState (T-shirt / Sweatshirt)
S / M / L
These t-shirts are produced as part of the
TunState
exhibition opening on April 26th 2023 at Museo Jumex. The show draws connections across regions and examines the ways in which lifeforms adapt to endure hostile conditions. The artist bought second-hand t-shirts from flea markets and had silk-printed the TunState logo designed by Özer Yalçınkaya. Limited edition t-shirts are made in collaboration with Big Baboli Print House in Istanbul.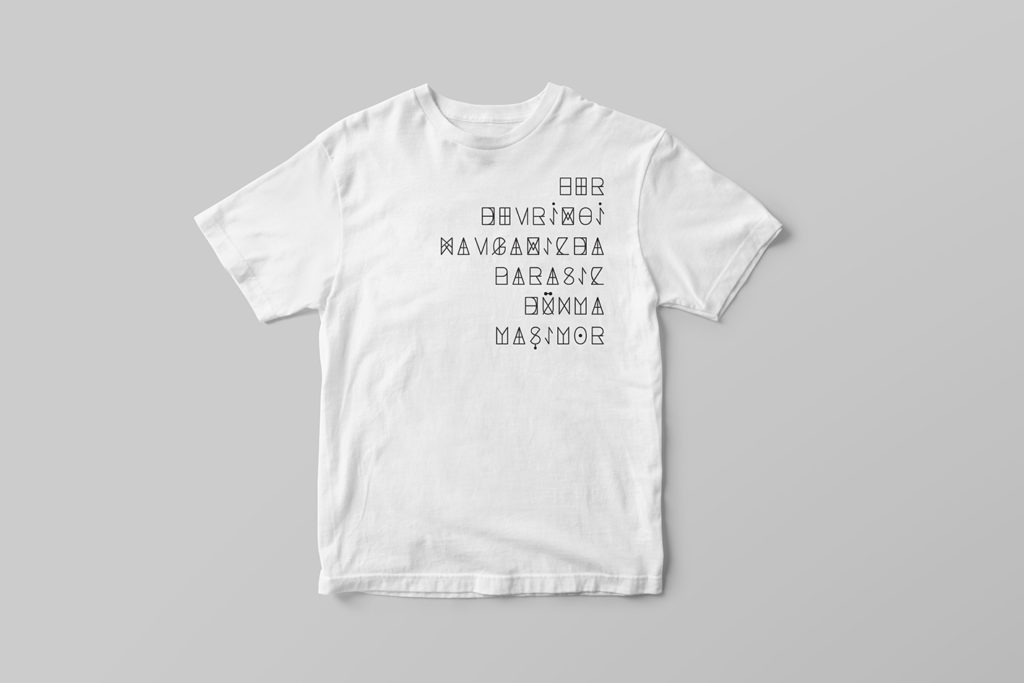 ANNEX (T-shirt / Sweatshirt)
S / M / L
Produced as part of the project titled
ANNEX
is a font conceived by the artist Aslı Çavuşoğlu, and designed by Özer Yalçınkaya. ANNEX finds its inspiration, and shape from a socio-political phenomenon Çavuşoğlu has been documenting across Istanbul for over a decade. Herein anti-establishment graffiti is quickly redacted through the use of counter-graffiti marks that make the original slogans, such as "the only way is revolution", or "another world is possible", illegible by rendering the letters into jumbles of crosses, triangles, circles, squares, and other abstract geometric blocks. This t-shirt design is based on the idea of bringing together words that repeat many times in the original slogans and creating a new slogan "Her Devrimci Kavgamızda Parasız Dünya Yaşıyor" that could be translated as "The Free World Lives in Every Revolutionary Fight".
191/205 (2010)
Limited Edition Vinyl (signed)
In January 1985, the General Directorate of the Turkish Radio and Television Corporation (TRT) banned the use of 205 words on TV and radio broadcasts on the grounds that they do not comply with the general structure and operation of the Turkish language and that they are beneath the level of standard Turkish. The order banned words such as "memory, remember, recollection, experimental, motion, revolution, nature, dream, theory, possibility, history, freedom, example, conversation, whole, life," but it was ultimately repealed.
191/205 is a song created with the Turkish MC Fuat, consisting of 191 of these banned words found in TRT archives and newspapers.
<TO ORDER>
Aslı Çavuşoğlu: The Place of Stone
September 2018, 128 pages
English
Published by New Museum, New York.
ISBN: 978-0-9854485-8-5
This catalog is published in conjunction with the New Museum exhibition Aslı Çavuşoğlu: The Place of Stone (September 18, 2018-January 13, 2019). For her New Museum exhibition and residency, part of a partnership with the Istanbul-based SAHA Association, Çavuşoğlu expands her ongoing research into the histories of specific colors, exploring the origins and trade history of lapis lazuli, a blue stone exported primarily from Afghan mines since the seventh century BC In her new body of work, Çavuşoğlu will create a wall of fresco panels, an artistic form that has traditionally incorporated lapis pigment; to this day, frescoes yield information about lapis lazuli's trade and distribution, as well as its cultural symbolism. In her installation, Çavuşoğlu will trace the history of the color blue across centuries and diverse geographies—from Central Asia to Africa to Europe—following its transitions and shifting associations, from the sacred to the political to the emotional.
<TO ORDER>
November 2013, 216 pages
Turkish | English
Published by ARTER, Istanbul.
ISBN: 978-975-6959-76-3
The publication that accompanies Aslı Çavuşoğlu's exhibition "The Stones Talk" features drawings of the 71 study pieces reconstructed by the artist, 3D sketch renderings of the objects in the exhibition and photos of selected objects.
The book includes new essays commissioned exclusively for this publication. Özge Ersoy's curatorial essay is followed by sociologist Aslı Gür's text titled "The Fragment That Resists the Story" and based on her research at the Museum of Anatolian Civilisations in Ankara. Revolving around symptoms and dreams as "foreign languages that speak with us", the essay by psychologist and editor Gülin Ekinci proposes a reading of "The Stones Talk" through Freud's work, while curator and writer Adam Kleinman focuses on the role of imagination in our relationship with objects.
50 Books | 50 Covers competition, AIGA (American Institute of Graphic Arts) and Design Observer, 50 best book designs of 2013
Review | Reading The Stones Talk by Liang Cui
<TO ORDER>
Aslı Çavuşoğlu: Mercury in Retrograde
2012, 96 pages
Turkish | English
Published by art-ist, Istanbul.
ISBN: 978-3-86895-259-9
The Contemporary Art Series of artists books, initiated by Art-ist publications, presents unique monographs of work by emerging artists who do not have a publication on their work yet. "Mercury in Retrograde" is the fifth book in the series, which focuses on Aslı Çavuşoğlu's artistic production since 2004.
In her works, Aslı questions the audience's relationship with reality through her daring interventions in space and time. No matter what the topic is, her works reflect the process and the coincidences invoked by the artist that result in layered interpretations. In the universe that is presented in this book, linear relationships and narratives don't work. We can only perceive the works as a constellation of time/space compressions, which impact each other in multiple dimensions.
You can imagine that an artist dealing with the fictional nature of historiography and placing herself at the center of experiences shaping her work would not let somebody else edit the narrative about her practice. The interpretations you will come across are some possibilities articulated from now and the same works might appear with completely different meanings in the future.
<TO ORDER>
TakipPoursuite
Artist Book
June 2006, 78 pages
French | Turkish | Japanese
Published by BAS, Istanbul.
Edition: 1000
ISBN: 9944-5030-6-1
TakipPoursuite is a crime story constructed with the sentences taken from Turkish-French and Turkish-Japanese language phrase books. It was published in collaboration with BAS, the artist run space dedicated to collecting, displaying and producing artists' books.
<TO ORDER>
In Patagonia After Bruce Chatwin
Artist Book
2009, 68 pages
Turkish | English
Edition: 500
ISBN: 978-605-5569-00-6
The author of In Patagonia (1977), is among the prominent travel writers who were active before popular magazines took over the travel writing scene. The novelty he introduced into the colonialist notion of 'I came – I saw- I wrote it all down' was that he blended travel writing with fiction.
In Patagonia After Bruce Chatwin is based on the idea to re-enact the journey 20 years after Chatwin's original one. This journey can be read as the initiation of a fascinated reader of the book who wants to create her own experience, and it is about going to all places named in the book using the same transportation means Chatwin used and finding the same people Chatwin talked to.
<TO ORDER>
The Unsubscribed Life of Peter Böse
Artist Book
June 2007, 68 pages
English
…
He was sure that his right hemisphere worked more actively that his left one and this inequality was quite annoying.
…
<TO ORDER>
A Slight Hesitation of Petra Nacht
Artist Book
2007, 10 pages
English
Published by Platform Contemporary Art Center, Istanbul.
Edition: 200
…
Petra Nacht found herself smiling when she woke up in the morning of October 22, exactly thirty seconds before the alarm clock she had set to go off at seven. This punctuality, which may also be the indication of her perfectly functioning biological clock, was actually because of this: She had found the subtitle for an article to be submitted the next day on "The Foreign Policy of EU since September 11".
…
<TO ORDER>
Future Tense (2017)
16 pages, Black and White
English
Commissioned by Pinchuk Art Centre for the exhibition of Future Generation Art Prize 2017.
33 x 53 cm
Future Tense is a project in the form of a newspaper that brings together 50 soothsayers from diverse political opinions and ethnicities who consulted sand, lead, tarot cards, coffee grounds, blank sheets of A4 paper, dreams, water, clairvoyance, astrology, pendulums and horoscopes in order to reveal the point that Turkey has reached in newscasting. The sessions took place in December 2016 and January 2017. The articles in the newspaper have been commissioned specifically for 2017 and further future.
As populism, lack of empathy, discrimination are reaching new extremes both in the world and in Turkey, as everyone is asking the question of what will happen next, Future Tense questions our habits of receiving the news by mixing propaganda, news, and fortune-telling.
<TO ORDER>
Ouroboros (2019)
Silk-screen printing
70 x 70 cm
Edition: 130
Exhibited at the New Museum, The Place of Stone takes its inspiration from Lapis Lazuli, a semi-precious stone which is the source of the first natural blue. The work reflects on the journey of Lapis Lazuli together with other blue pigments through different geographies for centuries.
Ouroboros consists of the hands of figures that the artist avoided using in The Place of the Stone. The eternal circle formed by the hands evokes Ouroboros, the symbol of a snake or dragon biting its own tail in mythology. Ouroboros follows the journey of Lapis Lazuli and other blue pigments expresses the cycle of socio-economic relations.
Utilizing different shades of blue as in The Place of the Stone, Ouroboros is a guide that completes the fresco. Seven hands paint each other with different blues: lapis lazuli, indigo, bremer, smalt, egyptian, turquoise and han blue, in reference to the different periods within the history of the color Blue. The hands were moulded separately and reproduced with the screen-printing technique to show the texture of the color in the best way. The miniature hand in the lower right corner is the drawing of the artist's hand was coloured with synthetic Lapis Lazuli pigment.
<TO ORDER>
Plant liberation is human liberation!
Every year tons of plants are being locked up at supermarkets, growing under neon lights. Chemicals are used to extend their shelf life. We must liberate these plants and return them where they belong to—soil with sunlight.
Poster created in collaboration with Burcu Tokatlı for the exhibition 298 111 conducted by the Muzeum Śląskie & OFF Festival between 2018 and 2020 in Katowice.
<TO ORDER>